Welcome to VDubber
Joining and using our community is free and easy. It's packed with features to help you keep track of your projects and connect with others.
VDubber is free to use for everyone, including vendors and clubs and provides reliable dependable hosting for aircooled photos and videos.
To find out more about the site features and what benefits you can get by creating an account, read on...
---
Build Pages
The VDubber community is built on sharing, and there's nowhere better to share your ride than on a build page.
Build Pages form the cornerstone of the VDubber experience and provide you with your own customisable space with dedicated blog, photo galleries, videos, discussions and more.
It's like having your own website but without all of the hassle of having to maintain it.
All Build Pages come with their own dedicated blog feed which has automatic coverage both here in the VDubber community and on the VDubber Facebook and Twitter feeds.
You also have access to a number of apps to help you keep track of your project and keep all of the information in one place. These apps include a task list, file storage and note apps.
Each page also includes a discussions section where you can create topics that others can participate in. Discussions are a bit like a dedicated forum just for your project.
All activities from your build page are aggregated on the main community page making it easy for others to find and keeping everyone up to date on the latest progress.
We have even integrated dedicated flyers that you can print out. Each flyer contains a unique QR barcodes that will take people straight to your page, a cool thing to display in your car at shows or to hand out on your swap meet table. Never has it been easier to get connected.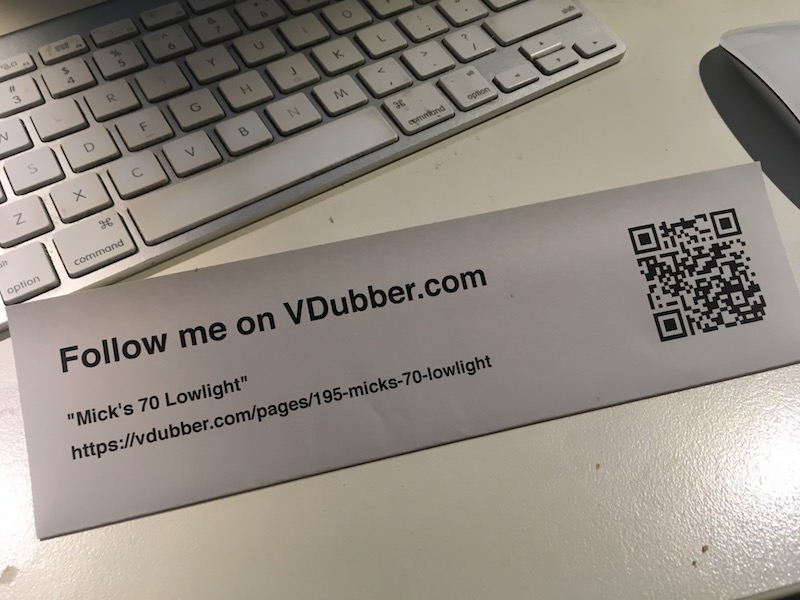 All Page content is managed by directly by the page owner. Page categories are also available for Video Logs (VLogs) , Vendors, Clubs and Events.