Bus, Boat, Car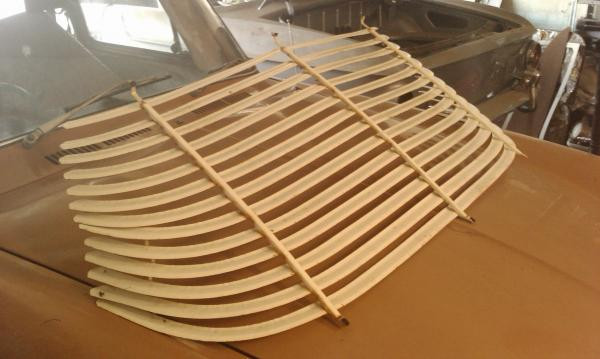 Had a bit of a VW weekend this weekend.
Managed to score some nice VW stuff from a fellow VW enthusiast (cheers razor ;) ).
Picked up an original venetian for the Razor. It's an Aussie only part and appears to be a pretty rare thing. I have seen venetians for razors before, but most of them do not wrap around the rear screen correctly. This one is correctly shaped to fit the screen. I've only seen one like this (this one), but the PO said that there are maybe three others in existence.
I was offered this some time back but at that time, did not think that a period accessory like this would really suit a Type 4 powered turbocharged razor, but as the direction with the car has changed a little, I've decided that it will look right at home. It needs a restoration, but apart from some sun- faded paint, and a few minor kinks, is in very good condition.
The venetian mounts by six small tabs that slide in the rubber screen seal next to the glass. Each tab has a small rubber pad to prevent damage to the glass.
The venetian is a great score, and not one that would come up too often, but this was not the only thing that I managed to pick up this weekend. The rest of the VW 'stuff' comprised of several boxes of stuff capable of building a nice 2100cc engine. This is basically a Scat 2100 DIY kit, which includes everything apart from the case, cooling and exhaust. It even includes a pair of weber 45 IDA's, manifolds and air cleaners, as well as a very nice Pertronix flame thrower dizzy.
It's nice stuff, and will build a perfect engine for the bus. From my previous research 2100cc should make a nice torquey engine, perfect for pulling the bus along. Mated with the Type 3 box that is already in it, it should make quite a nice driving bus. It might even be enough to tow the bug, which would be a massive bonus.
So this now leaves the ex Aussie army stationary engine that I bought for the bus redundant. I had bought this unit as it was a low hours (only approx 1000 hours), 1600cc single port. Basically a nice reliable stock engine.
So what to do with the stationary engine???
Well as luck would have it, I am looking at another project. But this time, it doesn't have wheels. The father in law had been building a boat, not just any old boat, but a full on metal hulled fishing boat. It's a 6 metre by 2.5 metre stern powered displacement hull. More or less the biggest that can be towed on the road here in SA. He had got as far as building the frame for the hull, but then decided that vintage motorcycles were more fun. So the boat has sat there for a year without any further progress. When he was talking about getting rid of it recently to make room for
more motorbikes, me and MelleMel had a chat and decided to 'keep it in the family'.
Anyway... to cut a long story short, we have decided to take the boat off of his hands. So for the time being the stationary engine looks to be the perfect choice of power-plant.
I need to figure a few things out, like how to get it out of his garage (it's a big as his garage - lol), how to get it from there to wherever it is I am keeping it for the time being, and how building a boat fits in with the rest of my projects, but it sure looks like it will be a lot of fun once finished.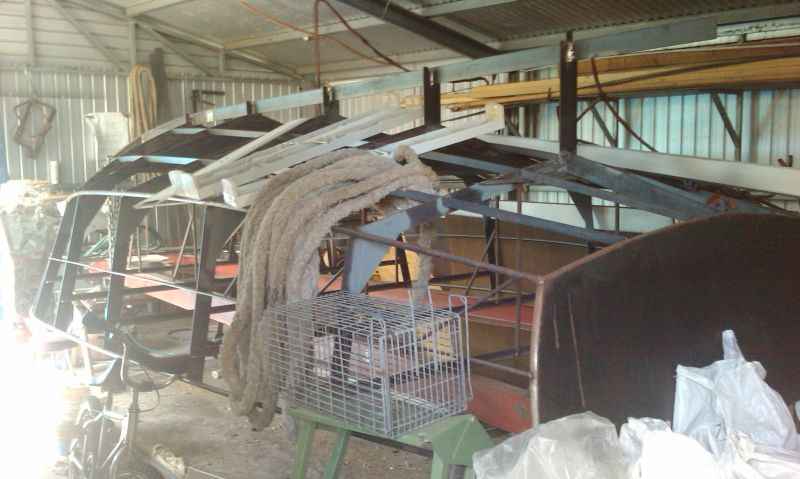 Comments
2

Matt
on Tuesday, 25 January 2011 11:32
great news mate, you sound like me
0
great news mate, you sound like me ;)

Mick
on Tuesday, 25 January 2011 13:46
HA. Except you got more room.
0
HA. Except you got more room.