Slacking
Feel a bit lost without the car to work on, so have been a bit slack. Have spent the time doing a spot of research on ye olde interwobble, trying to track down some cheap gauges. Found some flea bay specials for a very reasonable price - oil pressure, oil temp, boost pressure and a 5" tacho for not very much dollahs. They're el-cheapo snide Autometer clones, but will do the job for time being, which is likely to be one weeks use at speed week - assuming the car lasts a week that is :)


Picked up all of the stuff to make up the headers with - lots of 90 degree mandrel bends, a 4 into 1 collector, flanges etc, and a nice bit of 6mm x 100mm flat bar to make up the turbo mounting flange from. The header will be a 1 1/2" system into a 2 3/4" collector up to the turbo. The exit from the turbo is 3". I will make this up myself as it's simply the quickest way to do it.

I've also been down to see the bug a couple of times to work out a few issues with cage design and also drop off the seat. The rear floor has now been cut out of the body to allow the cage to be permanently welded to the floor pan and frame horns whilst still allowing the body to be removed. This means that I now have a lot of room in the rear of the car to put the turbo as I can box this in afterwards with a new firewall. Another great bonus is that I can also fit an intecooler in an ice bucket inside the car - well it would be a bonus except that there is no ice van this year as they're all at the Clipsal :(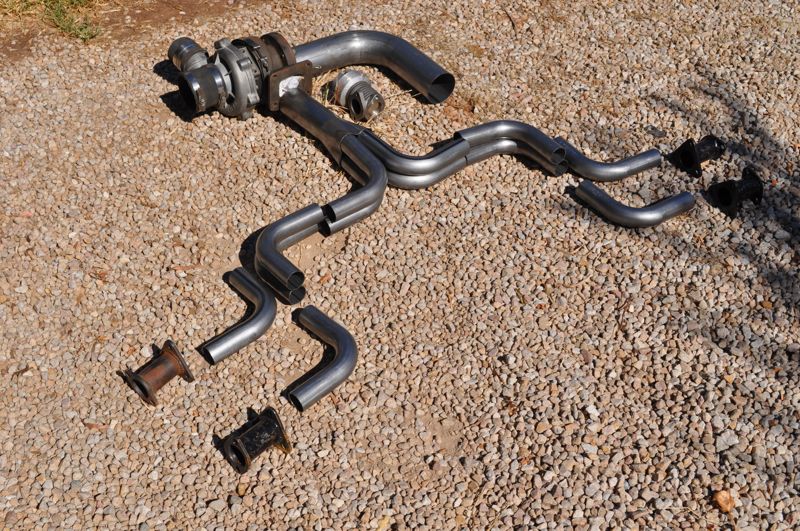 The cage now has the main hoop made up with the cross brace in place, and the brackets welded on for the cage to join up to the frame horns. All of a sudden, its starting to look like race car.

The front beam is being made up and (fingers crossed) I've also managed to source a set of wheels with safety beads.

Unfortunately the slackers at CB performance still haven't dispatched my order, which I'm a bit pi$$ed off about - especially as the extortionate super fast shipping is costing as much as my order is. Not so super fast now is it. Hopefully this isn't going to hold me up.

Got some more pics, but as usual, haven't had time to upload them yet, will post them when I do.
Comments
No comments made yet. Be the first to submit a comment