Rat Oval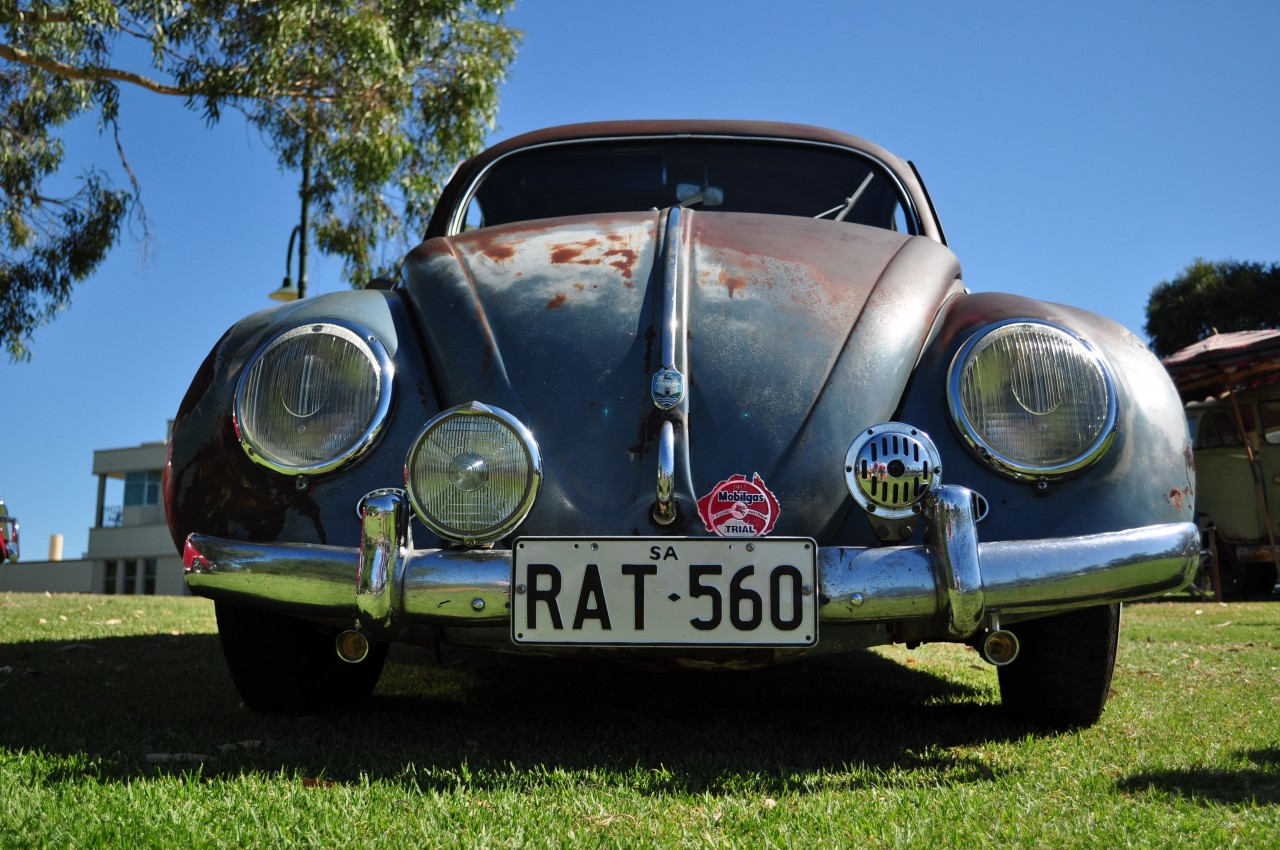 Nick Bentley's Badass Rat Oval
Nick Bentleys 56 rat oval is a regular part of the South Australian scene and can often be spotted at events and meets. Sporting perfect patina, a big Type 4 power plant, all round disc brakes and a close ratio box not only does it look badass, it's lots of fun to drive too. Here's a bit more about the man and the rat straight from the horses mouth...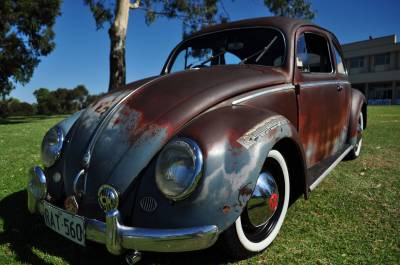 I caught the aircooled disease early. Mum brought me home from the hospital after I was born in her 57 oval. So after a happy couple of years cruising around in that lovely warm space below the back window, listening to the sounds of the mighty 36HP, my younger sister came along and I was relegated to the back seat while she got the prime spot.
Soon after mum decided it was time for an upgrade,so a shiny 58 beetle appeared in the drive. Recently I asked her what prompted her to trade in the Oval "well the 58 was a nicer colour and it had a radio!" As you can see I was doomed from an early age.
Fast forward to my sixteenth year,license clutched in my hot little hand, it was time for my first car. You guessed it a vw. A 1962 beetle, no rust, original paint and a very clean stock interior. It was the early 80's so what does any 16 year old with with more money than sense do, he buys an angle grinder and a fibreglass Baja kit. [Beetles were cheap in the 80's ready to be destroyed by teenagers everywhere].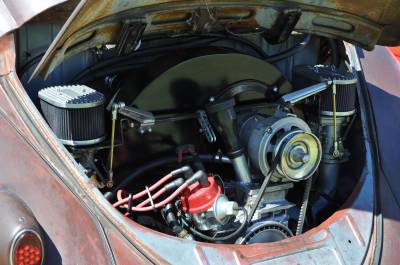 Then I discovered Alcohol and falling over so it was time for a kombi. My first splitty was a wonderfully original 65 dove blue panel bought for the princely sum of $40. After a quick engine swap to one that didn't have a hole in the case where a rod had made a bid for freedom I was cruising. Total investment $200!
After 10 or 12 beetles, a country buggy, 5 split kombis, a few type 3s and a bay window that taught me the hard way about fire extinguishers, it was time for a break . Cue the company car and now I could spend up big on motorbikes. Well after 10 years of crashing and Ambulance rides I realised that maybe I wasn't such a good dirtbike rider after all. Time to embrace the aircooled disease again. So I started looking around for a kombi which I eventually found in NSW in about 2006. But I wanted to go a bit quicker than a stock split screen would allow and with that empty space in the shed begging to be filled it was time to get the splitty some company.
One day in early 2009 I spotted this cool looking rat oval on feebay. So after a 2 minute chat with my partner and her words "where are you going to find one that looks as cool as that" ringing in my ears I rang the number. A guy called Chris in Melbourne had scored the Oval off the bloke who'd dragged it out of a paddock in the victorian high country a couple of months previously. The beetle was owned by one family who used it for regular trips to Eden on the NSW coast to go fishing and then parked it in 1978. After 30 years in the great outdoors and many generations of rats making their home in it there wasn't much paint or interior left. The perfect rat. Chris threw it together in a very short time frame to get it on the road again, Type 4 motor, new beam and a donated interior. After taking to Chris on the phone for about an hour a deal was struck and the rat was all mine.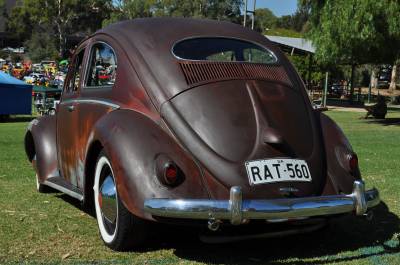 When I picked up the oval I couldn't believe just how solid the body was, perfect A pillers, hinges and heater channels. No rust around around any of the windows, the more I looked the better it was. I was a very happy camper. Chris had told me that all he'd done was replace one floorpan half and the area behind the tank where years of rat sh!t had eaten thru. I knew the rat had plenty of potential but it was running like a pig and over heating big time. So after a call to Mike Sharp in Toowoomba I redid the upright conversion from scratch. A top end rebuild, a bit of head work and a full exhaust system from CSP in Germany and things were looking up. After a trip to the Dyno tuners the old girl was making a solid 90HP at the wheels and had become a real hoot to blast around in.
Of course, it doesn't matter how much grunt you have you can never have enough. So since this article was written Nick has been busy and has replaced the mild Type 4 with a much wilder big block 2.7 Type 4 there is also a new close ratio box to help him take maximum advantage of the extra power and all round discs with Wilwood calipers to make sure he can stop the beast. Passengers have reported being scared, very scared.
Nick now considers the oval 'mostly' finished and is looking to get some strip time under his wheels. We can't wait to see it in action as we are pretty sure it will haul ass.
Not one to sit around and Nick is already busy with his next project a '57 panel and guess what - he's already talking type 4 power. 
Comments
No comments made yet. Be the first to submit a comment