Speedweek 2016
The trip to this years Speedweek actually started seven years ago back in 2009; the first time that I visited Lake Gairdner. Myself and a mate had tried to get out there a few years before in 2007, but rain and bad track conditions had meant that the event was cancelled in both 2007 and 2008. In 2009 we rented a cottage in Kimba and commuted the 2 hours or so out to the lake every day. From the first moment on the lake I was hooked, it's completely inspiring to be there, stuck in the middle of nowhere, in one of the most surreal places you'll ever visit. Real grass roots stuff, not a corporate cash cow, but blokes like you and me, making stuff in their sheds that they drag from wherever on a journey that includes two or three hours over unsealed roads. Even as a spectator the commitment required to get there is immense.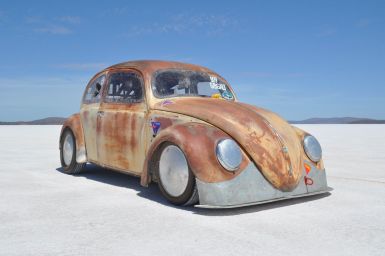 So when I returned from the lake in 2009 I immediately set about looking for a project. I already had a big block Type 4 and a Porsche 911 5 speed gearbox sitting around doing nothing so all I needed was a suitable project car in which to put it, it almost seemed easy. Eventually I found a nice patina'd oval advertised on the Aussieveedubbers forum, so I bought it and had it shipped from Caboolture in Queensland down to Adelaide.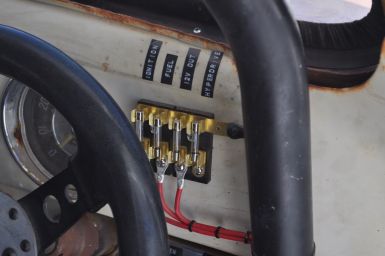 Initially my enthusiasm was pretty high and in the space of a month or so had the body split from the pan, new pan halves welded in, the pan converted to IRS and the gearbox fitted. I shipped the car off to Donegal Engineering to have the cage made and ordered a bunch of stuff from the States. After waiting for parts to arrive, cages to be made and also the birth of my son, Speedweek 2010 came and went and the car was still a way off of being finished. Priorities had changed and the oval was no longer top of the list. I tried a few times in subsequent years to get the car finished off, 2012 was a rain out but also the birth of my daughter,  in both 2013 and 2014 I simply left it too late, the same in 2015. So, determined to break the pattern I started work on getting the oval prepped for 2016 back in September of last year, plenty of time, or so I thought.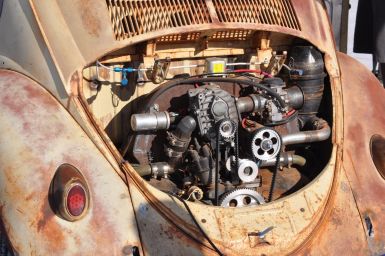 I literally worked every spare hour I could on the car, finishing work and then going out into the garage to crank on the oval in the evenings, spending weekends out there getting things done. Somewhere along the way, having been a follower of Burly Burlille's 36hp challenge, I had decided to postpone fitting the big Type 4 motor and build a wild 36hp motor instead, but what I realised was that if I was to make it out to Speedweek this year, I would have to shelve these plans as the 36hp engine required a lot of engineering, it wasn't  simple case of assembling a bunch of parts, parts literally had to be made, its a pretty wild endeavour. So I made the decision to fit a stock 1600 single port engine that I happened to have 'spare' along with one of my JoeBlow supercharger kits to give it a little liven up, at least this way I could get to take the car for a shake down and get some experience on the salt.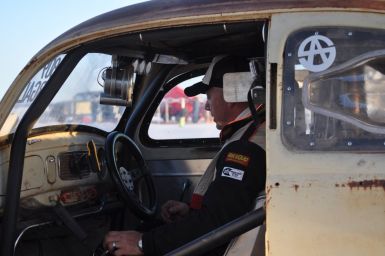 Time fast approached and I was thankful that I had booked the week prior to Speedweek off of work as I needed all of that time and more to get the car finished off, in fact I was still sorting things out as I was loading it on to the trailer the night before departing. This meant that I had no chance to drive the car apart from up and down the driveway, there was no shakedown test, no chance to refine things or set things up, it was as they say 'shit or bust'.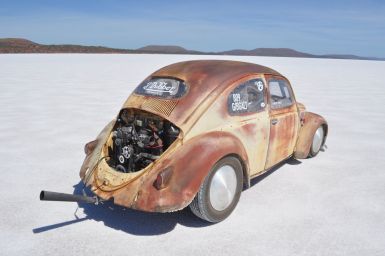 I engaged the help of a VW buddy of mine JimmyBay to crew for the event and we set off on the Saturday morning for Lake Gairdner. After what seemed like hours and hours driving dirt roads and convincing ourselves we were lost we rolled in to camp at 5pm that arvo. We had a few beers, met up with a few of the other racers and settled in ready for the next days activities.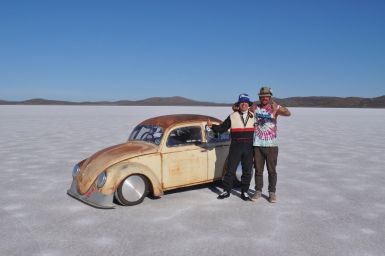 Sunday morning we made our way out to the salt and set up our pit area. Once set up I registered and took the car over for scrutineering. I must admit I was a bit nervous, interpretation of the rules can be a difficult thing and my worst fear was not being allowed to race due to some rookie mistake, it's a long way to tow a car only to not use it. Fortunately things were pretty good and apart from changing the vent tube on the fuel cell and patching a couple of holes in the bulkhead that I forgot, scrutineering was passed and my 'inspected' sticker was issued. There were a couple of items that I will need to fix for next year which were duly noted in my log book, but even these were no big drama. We made some further checks to the car and set the front toe. We were finally ready.
Monday morning we were up super early and on the lake at 7am. Driving to the pits was literally the first time I had driven the car except for up and down the driveway, it was a relief to find out that all gears worked and the car drove in a straight line. Once at the pits we queued in the line ready for the 8am start to racing. The initial run did not go too well, the hose for the boost gauge blew off of the manifold and so I turned off before I could go through the timing lights. The second run went a little better as I made it through the lights but it threw the supercharger belt so we only recorded 64 mph. I decided to change out the gilmer drive belt and pulleys for a normal Joe Blow kit with a PK style belt as I knew that it would be one less problem to worry about, we also added some pressure in the tyres.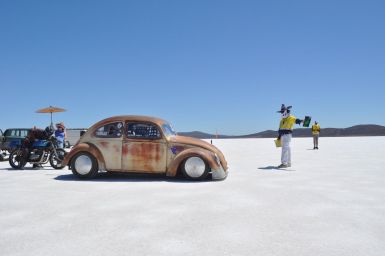 Tuesday morning there was a safety meeting first off so we did not get started until about 9am. The run over to the start line was super bumpy and the car felt very lively down the track, we recorded a speed of 99.271 very close to our 100mph goal. I made some jetting changes and ran 99.33 mph. Tuesday arvo we added a bit of toe-in and dropped the tyre pressures to try and keep the handling from being so lively.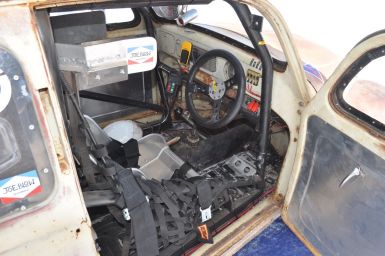 Wednesday we were up early again and went out and ran 102.111 mph we had cracked the 100!! The O2 sensor was showing we were very lean so I drilled out the main jet and raised the needle up in the carbs to get more fuel in. I also noted that the engine did not really have enough power to pull the tall top gear so on the next run out I really wrang out 4th gear before changing up and managed to run 108.347 mph. The engine still felt like it was climbing through the lights a little so on the next run I got onto the power a little sooner, this resulted in getting a speed of 109.469 mph it really felt like everything came together for that run, the engine pretty much felt like it had no more to give. Back in the pits we decided to swap back to the gilmer drive setup as it would give a few more PSI boost. Shit or bust as they say. We would either better our previous time or kill the engine trying.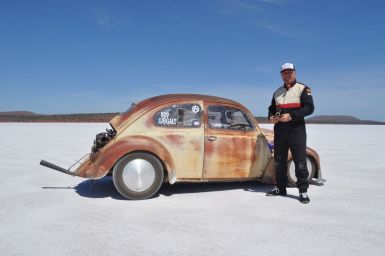 Wednesday night we went to the auction at the drivers camp. I donated a Snell M2010 helmet that I had mistakenly bought last year instead of a SA2010, unfortunately I missed the bidding for it, hopefully the club made a bit of coin or someone got a bargain. I also picked up the rookie of the year award which I was a bit stoked about.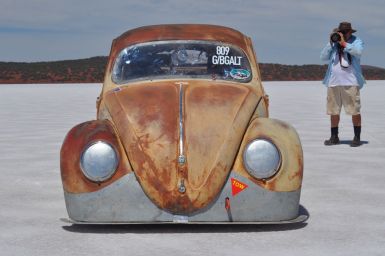 Thursday morning conditions were perfect , the air was cool, there was a small tailwind and the queues were small. Unfortunately I had to do my volunteers duty of startline assistant for track 2 so had to wait until after lunch time for my run. By this time it was pretty darn hot and the nice tail wind had died down to nothing. The car felt like it had a fair bit more power and was pulling hard, but I think I probably came onto the power too soon as unfortunately before I made it through the timing lights the engine coughed a little and the cabin started to fill with smoke. I coasted off of the track onto the return road and assessed the damage. The engine would still run but it was pushing oil out of the rear of the engine onto the headers, not much but enough to create some smoke and leave a few drops on the salt. The fire service came over and made sure I was okay followed by the safety official who issued me with a yellow card. For me the race was over. I think that I probably detonated a piston and burned a hole through the crown. Given a different set of conditions we might have been able to get a bit more out of the engine but I think we pretty much discovered the limit of what is achievable out of a 1600 single port. We'd had it revving up to 6000 rpm in the pits and pushed over 12psi of boost through it and it nearly survived. Not bad for an ex army stationary engine. We finished the week up happy in the knowledge that we had given it all that we could.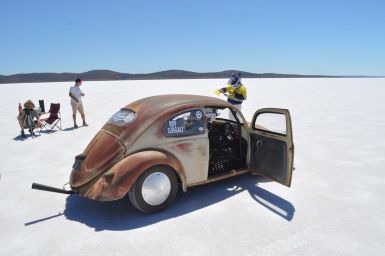 A big massive thanks to #Jimmybay for crewing and letting me wake him up at silly-o-clock every morning. I literally could not have done it without him, he is a true blue legend. Also a big thanks to #MelleMel for letting me crank on the car without getting too cranky herself, and a big thanks to my kids, Locke and Bella who each have helped with the oval build in some small way or other.
Comments
No comments made yet. Be the first to submit a comment