Mail Call - Brake Discs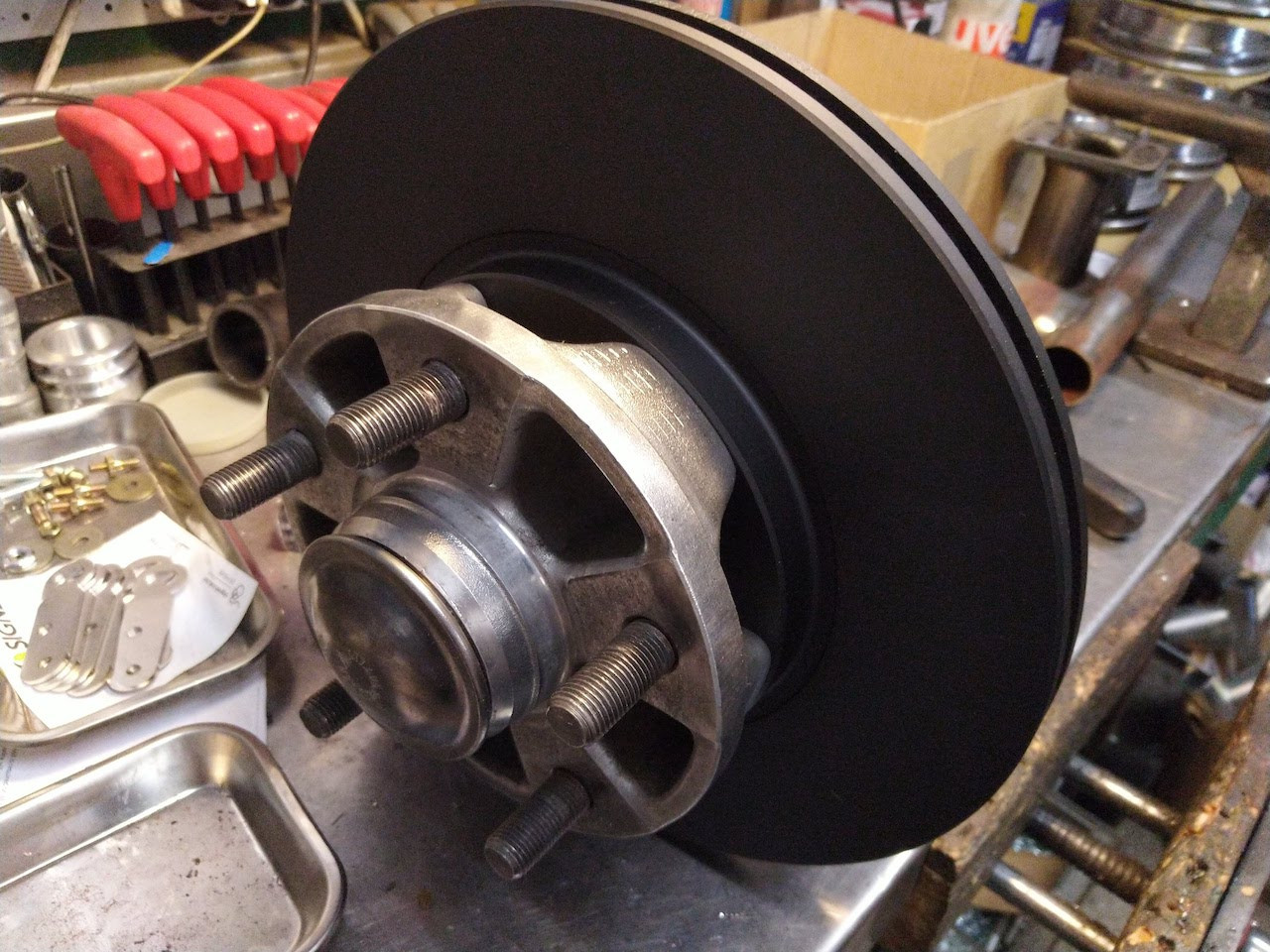 Got some more goodies today, my new front brake discs. These took a while to source as everyone has been out of stock since before Xmas.
The Speedster was supplied with all-round discs on a Porsche 5 x 130mm PCD. Both the front and rear are some form of 80's disc brake conversion and leave a lot to be desired. So I decided to swap everything out for Porsche hubs and Willwood brakes.
The front brake setups uses standard 944 early style front hubs and discs. The Willwood calliper needs to have a mounting bracket and spacers made so that it will mount correctly to the Empi drop spindle.
The early style 944 discs are the same as used on the 911 and 928. They differ from late discs by the way that they mount to the hub. Instead of mounting to the front of the hub as most discs traditionally do, they mount to the rear of the hub. They are also only 20mm wide compared to 38mm wide for the late turbo discs. This reduction in size equates to a big weight saving which is really good as far as handling is concerned as it helps reduce the unsprung mass. I made this mistake on my Type 34 Ghia where I fitted the turbo discs and 'big red' Brembo 4 pot callipers. They weigh a ton!!! With a lightweight speedster there's simply no need for that amount of braking force, a far bigger benefit is to be had by keeping the weight down. This reduction in mass means the spring (torsion bars) have less work to do which improves tyre to road contact which means more grip.
So the next job for the brakes is to mount the hubs to the drop spindles, which require some bearing adaptors, then split the callipers and make some calliper spacers so that they fit over the discs. Unfortunately this is another item that is currently out of stock pretty much everywhere. They are however very simple and so it's easier to just buy some. Once that is sorted the calliper adaptors can be made. These need to be made from a single piece of steel or aluminium and cannot be welded. Making them in this manner means that the strength of the adaptor can be validated by simple calculations, whereas a welded component will need to be destruction tested, which requires additional components and paying for the test. I think I will most likely go with steel adaptors as there are some space restrictions between the existing calliper mounts and the Willwood calliper and so the stronger material will be better given the reduced cross-section.
The plan is to get everything made and assembled on the bench and then simply swap them over with the spindles currently on the car.
Comments
No comments made yet. Be the first to submit a comment