Plastic Fantastic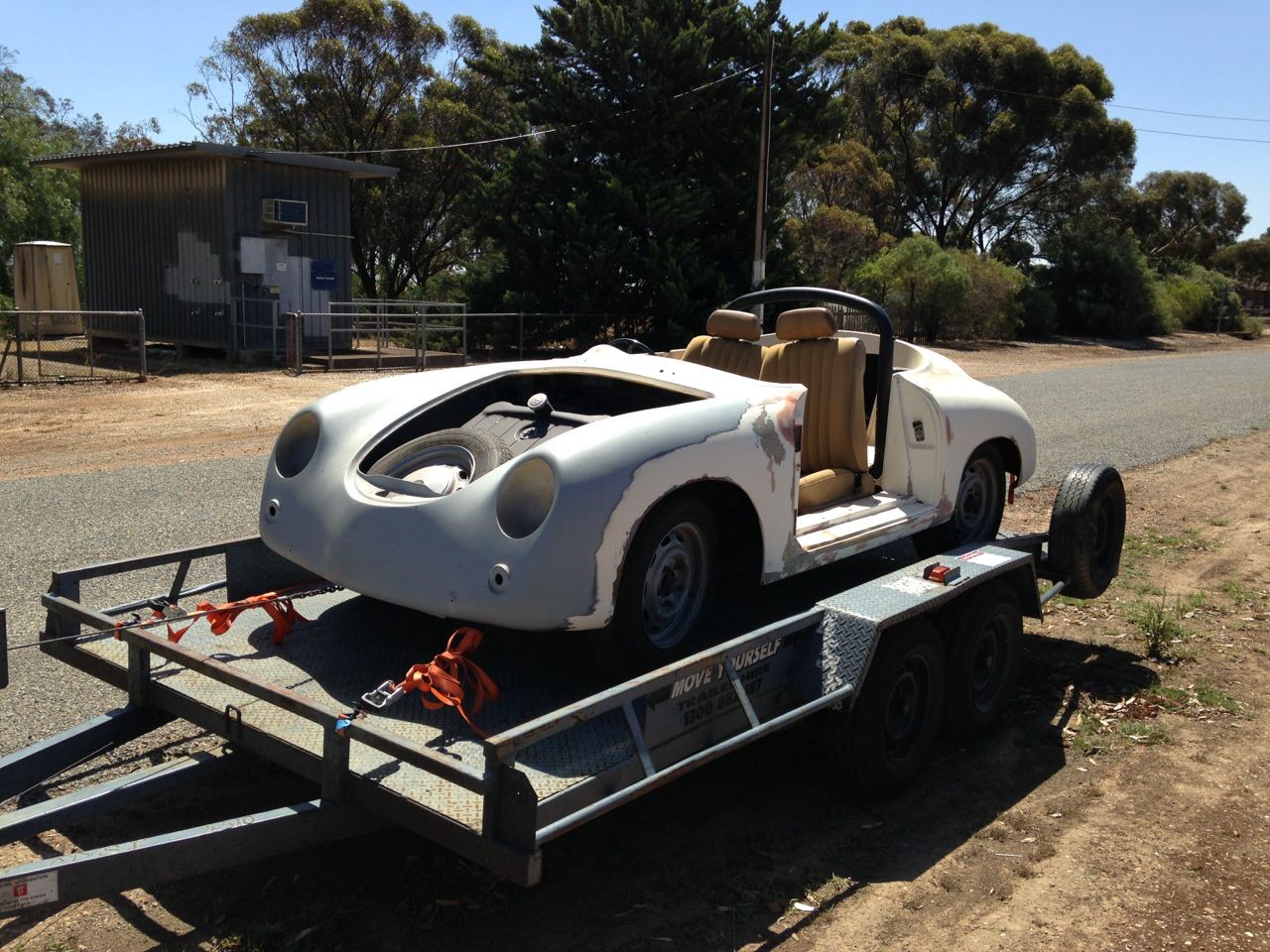 After recently going to look at a 356 coupe with the intention of buying it only to find out when I arrived at the sellers house that he had changed his mind I had a bit of a case of the 356 blues. I'd first seen this car about a year ago and passed it up. It was a RHD 'B' model missing its engine and fitted with VW front axles and gearbox, it also needed a fair amount of surgery to get it back to spec again - a perfect candidate for an outlaw build. Whilst the car was perfect at that time the price was not and so I decided to pass. Well that day had niggled at me for the past year and coupled with a change in financial circumstances I decided that I would go to buy the car only to find out that he had changed his mind. Ahh well. I guess it was not to be.
As if by a strange coincidence an unfinished 356 speedster project appeared on Gumtree that very week and whilst I have always had reservations about tuppaware replicas the case of 356 blues drove my curiosity to go and take a look. 
The car was basically a rolling shell. All mechanical aspects had been completed including a freshly built 1600 and all round disc brakes. The chassis was an IRS pan that had been supplied as part of the original kit from the kits manufacturers - 'Autostyling' WA -  professionally shortened and strengthened. The car also came with pretty much everything required to get it finished including the windscreen, carpets, wiring, lights, interior trim, hood and even a complete leather hide in a matching colour. A deal was struck - I am now the proud owner of a tupperware 356.
With the help of rustyovali I went and picked the car up the next week. Somehow we managed to get everything packed into the work ute and brought it back to Adelaide to live with the other projects.
The kit was originally manufactured back in the late '80's by a company called Autostyling in WA. In 1991 the father of the guy I bought it from purchased the car. He made a fair bit of progress building the engine and working through the requirements for the strict engineering requirements here in South Australia but unfortunately never got to see it on the road. After he passed away the car was put into storage by his son and sat there waiting. After a time he decided to sell the car to put some cash into some of this other projects and advertised the car on Gumtree.
Autostyling WA are unfortunately lo longer around, I'm not sure of the exact number of 356 kits they sold and information on them is very limited. The company were around in a time before the internet and all of the information that was supplied with the car is typical of that era - photocopied instructions and typed notes. There was a nice glossy brochure  in with the folder of info showing a rather 80's looking wide bodied version complete with 80s alloys and black accents, Crocket and Tubbs would have rolled it for sure.
After getting it home and taking stock of everything I packed all of the parts up in the garage. There's one or two items to source but nothing that isn't already readily available. One good thing with the amount of 356 replicas out there is that there are plenty of repro parts being made and so finding the few parts that I need will not be an issue. This was probably not the case when the car was originally built as many of the parts supplied are original Porsche 356 parts - such as a set of 5 Lemmertz 356C wheels with new Michelin rubber.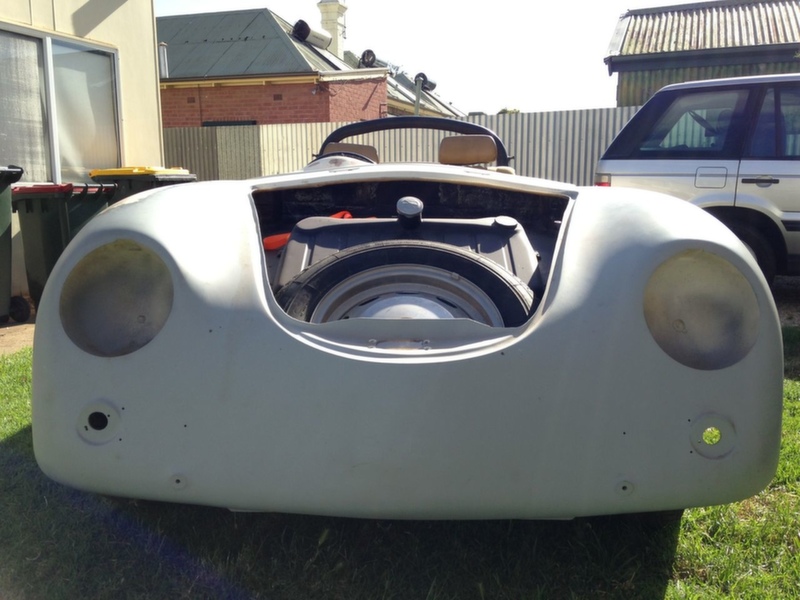 There is a fair bit of bodywork to do, the body itself is not finished and there are a lot of imperfections that need to be addressed like the flash from the moulding process and some bubbles in the gel coat. Of course these are still relatively minor compared to the work that was involved on the 356 coupe that I went to see. The relatively poor finish in some places almost make me think that this might have been the prototype or at least one of the first from the mould, maybe thats why Autostyling are no longer in business?.
One door has been hung and the other is yet to be done. Boot and bonnet have also been hung but I'm not really happy with any of this and will likely redo them all. Without access to the original supplier it's hard to see out how some stuff is supposed to go together but with the number of various kits out there it shouldn't be too hard to figure out.
To note there are a few unique items on this car such as the mouldings for the indicators and rear lights, I will likely leave these as they are as they are part of the character of the car and form part of its history.
Now that I have a 356 I've finally got a car worthy of these wheels. I originally got these to fit the Type 34 but after struggling with the offset decided to put them in storage until something more deserving came along. Not sure if I will keep them polished, I will probably paint them the same silver colour as the bodywork. The Speedster is a good candidate for the big Type 4 engine too. I would not run the turbo and would change the cam out to a N/A cam and fit it with some throttle bodies and EFI. Of course, this is all a long way off yet as I have a couple of projects ahead in the queue. In the mean time I can keep my eye out for 356 trinkets.
Comments
No comments made yet. Be the first to submit a comment