Result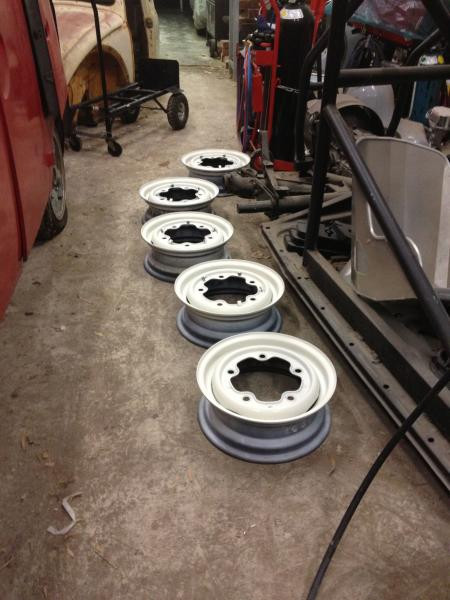 Had a bit of a result this week, finally managed to source the remaining parts that I was looking for. If you've been reading the blog you would know from this post that I've been searching high and low for some bukhead tin for a 1600 lowlight. Well as luck would have it, a bloke called Gary replied to one of my wanted ads and said that he had most of the parts that I needed. After taking trip out to go though his stash of parts i walked away with a whole bunch of goodies. Not only did I get the bulkhead tin, but I also got a pair of air vents, a pair of seat trims, a grab handle and a nearside sill repair panel.
Today I stripped down the other 1600 engine thats lying about in the garage. I decided to check the crank to see what condition it was in. As luck would have it not only is it a standard size, but it is also in perfect condition. This is great news as it saves the cost of a regrind or new crank, plus the flywheel is in much better condition. I also stripped the rods off of both cranks to check these as well. I found that one of the rods had a spun little end bush so decided to swap the rods over. I was happy enough to refit the crank with the old bearings as they were not worn and in really good condition but found that when I did a trial assembly the case that I am using has been line bored. After much pondering I decided the best thing to do would be to buy new bearings with the correct +1.0mm O/D. I will also buy new cam and rod bearings as well. At least then I will have complete peace of mind. Shopping around it seems that MoFoCo have the best deal at the moment, and are by far the cheapest for shipping. Might even add a few extras to the order.
With the reassembly of the engine stalled until I get the bearings I decided to do some other stuff instead. With the bumper freshly painted I refitted the new step rubbers and fitted the bumper back onto the bus. Now the bus actually looks like a bus and not so much like a project. Things are really starting to take shape. Earlier this week I stripped and painted the rims, I also dropped them off at the local tyre shop to have a new set of tyres fitted. Unfortunately they were not ready today. Fingers crossed I can pick them up tomorrow. I think the bus will really start to come together with a new set of wheels and tyres on there. All I really have to do cosmetically is to paint and reassemble the front doors.
Apart from the engine the main remaining task is to overhaul the brakes. I started by trying to losen the rear hub nuts but found that even with a long bar they were not going to budge. I've left them to soak overnight in releaseing oil and will have another go tomorrow. However, In the mean time I've removed the master cylinder which I will replace with the new one tomorrow.
Comments
No comments made yet. Be the first to submit a comment