Low Light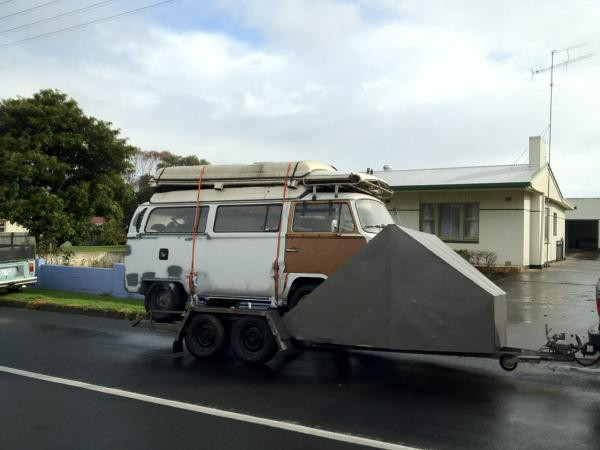 Just picked up another project, a 1970 lowlight bus courtesy of @Matt here on Vdubber. I actually bought this several months back but only just got around to picking it up this past weekend. After a bit of a road trip to Mount Gambier and a couple of days with the very hostiptable Tully Family, we towed the bus back to Adelaide to it's new home.
We also brought back a complete roof clip section from another bay for another local Vdubber (splitmeister from AVD). This was strapped to the top of the bus and made the load very top heavy, which made for some 'interesting' driving.
With the bus safely back in Adelaide the plans are to get her on the road as quick as possible. The bus is basically sound and very complete and whilst it does have a couple of areas that will need attention such as the bottom of the nose and the passemger side sill, it's solid enough to drive as-is. So that's the plan.
Once the bus is on the road I use it as my daily driver and sell my current daily driver (the red bug). The plans are then to get the interior sorted out so that when the warmer weather hits we are ready for a few family road trips.
The bus is a 970 which means that it has small style rear lights and wide 5 wheel fitment. Originally a 9 seater microbus, it now has a devon style pop top with sleeping in the raised section, it is a walkthrough and has a 3/4 Rock and Roll bed with a rearwards facing seat behind the drivers seat and a combined sink and stove unit behind the passengers seat. I was lucky enough to get a full width Rock and Roll bed thrown in which I may fit instead of the 3/4. I might also remove the sink / cooker unit too as i find that these take up a massive amount of space - especially when it's easier to cook and wash up in a bowl outside. After all who really wants thier bus stinking of sausage and eggs?? :)
As well as the full width Rock and Roll bed, Matt was generous enough to thrown in some other stuff. I also got some roo-bars, a tow bar, a rock guard for the front screen and roof rack. I cannot thank Matt enough, both for his generousity and for storing the bus for the past 6 months whilst we got our act together and picked it up.
Ultimately the bus will get the few rust problems addressed and a respray in it's original white colour. It may go two tone but I'm quite digging the solid white colour. It will also get lowered a bit, nothing too drastic, just a couple of inches, enough to make it a bit more stable to drive and not look too silly on a set of Sprint stars. ;)
I will get stuck in the weekend and take an inventory of the engine. It's mostly complete and simply needs reassembly. Hard to tell at this stage if it is sound or not so the quicker it's back together the quicker I will find out.
Here's some pics...
Mick.
Comments
No comments made yet. Be the first to submit a comment