Picked up the interior for the Ghia today
Went and picked up the interior for the Ghia today. Gotta admit, I'm well pleased with the job they have done.
I had the front and rear seats, plus the door cards and rear quarter panels redone. They made up new door cards from the templates I supplied, and did an awsome job of the door panels. They even added the correct heat seams into the panel to match the original. The panels are vinyl, whilst the map pocket was trimed in a leather material. The seats are also leather, in the same shade as the vinyl. Gotta admit, I was a little sceptical that they could match the vinyl and leather together (i originally wanted it all leather but the talked me out of it) but the match is spot-on. you cannot tell the diffrence.

Here's some pics.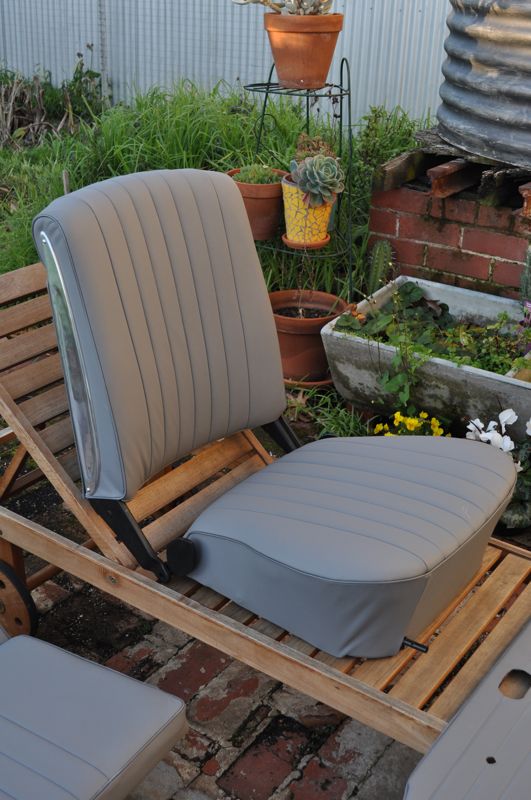 One of the front seats - I still need to source one of the plastic trims that covers the front / side edge of the seat before I can reassemble it.




Rear seat base and back. You can also see the rear quarter panel.




The door panels have come out really well. They will look excellent fitted up under the black door cappings. I alread had the trim strip repolished.




Detail of the door panel showing the heat seams and the map pocket. Also, in case you are wondering, the arm rests are good used items.

I also went out and bought some sound deadening material - the stuff that the sound-off guys use for thier cars - a bitumen / foam / foil sheet. I will use this to finish off the skin panels before i fit the trim. I will also add some to the rear firewall and roof too.

Next step is getting the car rolling again so that I can take it to the trimmers to get the headlining put in. Might just put the current suspsension back in rather than waiting until I can finish the new one off as that won't happen until after I have extended the garage, which is at least two months away.

Only other thing I really need to do beforehand is to remove the door hinges and clean / polish them up. Which is actually a nice simple job - perhaps I will tackle it when I have some spare time.
Related Posts
By accepting you will be accessing a service provided by a third-party external to https://vdubber.com/