Type 34 IRS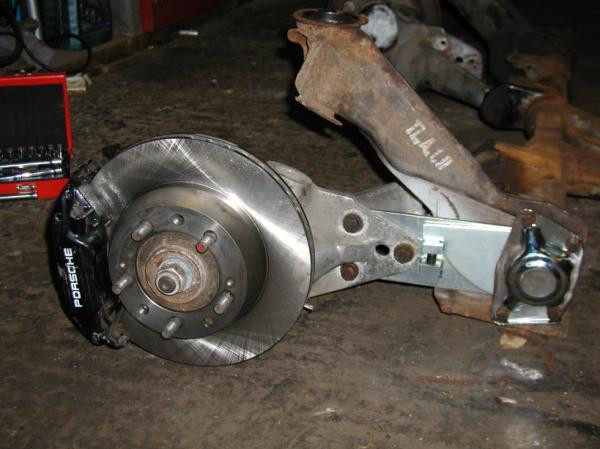 Spent a bit of time yesterday stripping down the Type 3 IRS that I will be fitting into the Type 34. This came out of the fastback doner car I bought a few months back. The suspension is in pretty good shape with no rust, dings, modifications or bits missing.
I removed the A-arms and spring plates in readiness to strip and paint the beam. I will probably paint this myself in an enamel based paint rather than getting it powder coated as powder coating generally comes out a little too shiny for my taste, plus they rarely mask everything up properly, so you end up spending just as much time removing paint from areas like bearing mating surfaces and thread inserts.
The bushes are well worn and will get replaced with new items. I will probably source some urethane bushes, although these are not as readily available as the swingaxle type.
I will be fitting a disc brake conversion to the rear. Similar to the front, i am using Porsche brembo calipers. These are the same ones that were fitted to the aluminium 944 Turbo A-arms I was previously using. The reason that I am no longer using them is simply that the suspension that I was buillding is unfinished and it will be quicker to use a stock setup with caliper adaptors. This is because using the VW arms means that there is no extra track (width), which in turn means that I do not need to modify the rear suspension. In reality, whilst the Aluminium arms look the business, they are actually heavier than the steel VW arms, and the additional work required to fit them is not worth it.
The aluminium arms can be used without modifying the track if the correct offset wheel is used, but for the wheel combination that I am using this does not work.
Fitting Porsche brakes to the rear is relatively simple and just involves a bolt on kit available from MBT Engineering . This allows fitment of the standard Porsche disc and handbrake shoes as well. These operate on the inside of the disc, much like a drum brake. This is similar to the unit shown below.
I still need to obtain the adaptor, unfortunately getting in touch with MBT is not easy. If it proves too hard to source I may simply use stock drums, and swap them over later. The main aim of the game at the moment is simply to ge the car back on the road.
Comments
No comments made yet. Be the first to submit a comment